I recently organized the most ridiculously out of control collaboration in January. The inspiration for the shoot was Winter, because I basically didn't take my camera outside last winter. It consisted of approximately 70 people who were makeup artists, hairstylists, photographers, and models. I didn't mean for the collaboration to get as huge as it did. I didn't realize there would be so much interest in the idea. Me being me I didn't want to exclude anyone as I love creating art. I knew the more people involved the more art could be created. There were so many people involved that I had to split everyone into three separate dates.
I would love to share the beautiful photos we created <3
This is Ashlee, she is managed by Infinity Management. Her hair and makeup were done by Billierose Ledoux. I have met and worked with Ashlee on a few occasions. She is a beautiful girl with an extreme amount of certifications under her belt. This girl is determined to be the best of the best and I believe in her. She is actually studying photography right now, something I have yet to do. Her photography page is called Cheri photography. I'm so proud of you Ashlee you've accomplished a lot in your life and you have a beautiful story to share <3
Meet Ashley Lynn this collaboration is the first time I have had the opportunity to work with her. She is going to participate in my Indigenous Portrait Project so I will have the chance to see her again. Ashley is also signed with Infinity Management. Her hair and makeup were also done by Billierose Ledoux. Through her submission to my Indigenous Portrait Project I have had the honor of learning a great deal about Ashley and her story. I don't want to share to much as I'd like to save it for the project to come. Let me just say this girl can move mountains and I'm sure she will <3
Say hello to Caitlin she is signed with Masala Model & Talent. Alina Asachova did her makeup and Laryssa Scott did her hair. That fashionable accessory she is wearing as a crown was made by herself. I admire this girl and she has a pretty incredible story of perseverance as well. I didn't end up getting half as many photos as I would have liked to of her look from this day. Regardless the other photographers did and the photos created have left me in awe thanks for participating <3
I know I know my draw dropped to when I seen all the beautiful images of this girl. Her name is Hilary she had her makeup done by April Dawn and did her hair herself. Hilary is an absolute photographers dream. She poses, she's flawless and she's got blue eyes that I adore. You will see Hilary again as she participated on 2 dates. This girl loves to model and honestly does it for the love of it. Makes me smile to see someone do what they love just because they love to <3
Lyberty wasn't even booked for this date. She was gracious enough to open her home for the artists and models to get ready. Due to a couple of cancellations we were able to squeeze her in this day. I'm glad we did! Her makeup is again done by Alina and her hair by Laryssa. She has recently signed with Infinity management. She has a great look and her hair and makeup were on point. I mean look at her this girl can #slay Thank you for being a tremendous help in this collaboration Lyberty You made it possible for us to keep the budget at zero <3
The lovely Samantha here was one of the original models I was going to work with on this project. Before it blew up. She is also signed with Infinity Management. Her hair was done by the lovely Laryssa Scott and makeup by the amazing Alina Asachova. Samantha is an absolute sweetheart, with eyes to die for. I'm glad she participated and I'm glad to have met her. I look forward to watching her evolve as a model. Thank you for being a part of this collaboration <3
Give a warm welcome to the gorgeous Chelsey. She was invited by her friend Elicia and I'm glad she decided to participate. She did her own hair and makeup and she is also signed with Infinity Management. Chelsey has some incredibly strong features, shes incredibly beautiful to look at. You can't just point and shoot at someone like her. Her beauty requires a talented photographer... I hope I did a good job <3
Janeen had her hair and makeup done by Billie Rose Ledoux and was one of two of my last models. I was the only photographer to capture some of their photographs. So I hope I made them happy with what I was able to capture. She had a completely on point look. Thank you Janeen for making it out on this day I hope to collaborate with you again soon <3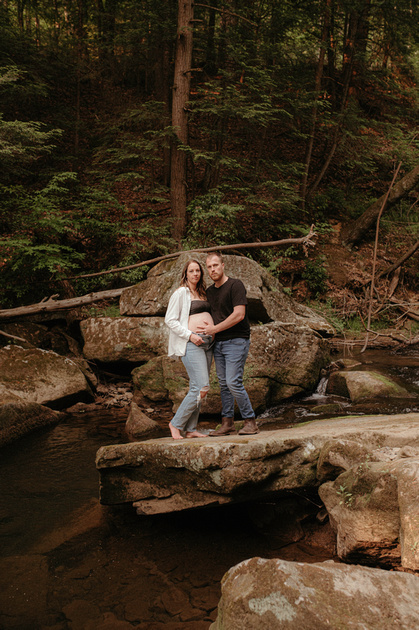 Last but not least Kailey and isn't she killing it. Billie Rose Ledoux is apparently her boo and did her hair and makeup... Let me tell you this was the coldest of the three days I organized. This poor girl I wish it had been ten degrees warmer for her. We managed to get a quick few photos in. Kailey will also be participating in my Indigenous Portrait Project so you will be seeing more of her in my blog in the future. Thank you for coming Kailey I'm glad I waited for you and Janeen to get in these last few shots of the day <3
This is one date with 9 models... I will post on the next two dates once I am able to edit all of the photographs from the next dates.
Reflecting on the successes and failures of this collaboration I learned a lot. I was glad to help so many people meet and create beautiful photographs. Would I suggest that anyone take on an endeavor like I did? Of course not, but what is life for if not to take risks. Working with this many personalities takes an extreme amount of patience, as well as, a strong neutrality to your personality. The collaboration honestly wasn't as hard to organize as you would think. What was truly hard for me was how it made me question my own personality. I consider myself to be very empathetic and when I am involved with too many people at once. It really does a number on who I believe I am. I'm always open to a new challenge and I enjoy organizing larger collaborations.
If I could leave you with any words of advice let it be this. Do what you do not for recognition, but for love. Remember why you create what you create or do what you do. The root of it is what will keep you humble and patient. Trust me I had to dig deep and pull out every thread of sanity I had. I'm glad it's through and I'm glad I helped so many people get so many beautiful shots <3